So this year we kick off our winter lan with high expectations and a little too much hugging as the friends from all over the county meet each other in person in their bi yearly event. They were welcomed by Skynet's wonderful and friendly welcome team Casio, Muffin and Cupcake (with +1) . Uppon getting their passes they received some much loved "free swag™" from our gracious sponsors of X-Gamer, Discord, Over-Clockers and calibre connections.
As they filtered into the venue they began the rush to get plugged back into the intertubes and make sure nothing has changed in the few hours or minutes it took to arrive in Brecon.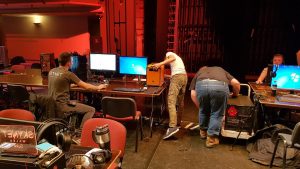 Friday night was very chilled as normal, people getting reacquainted with old friends, and some new once who it came for their first Lan experience! Woot for them.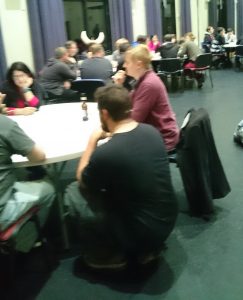 A bit of a change for the pub quiz this time, as it was in the studio due to the comedy club being on in the gallery on Friday. It has been reported the comedian they referred to us as "Wired computing cult". The quiz kicked off with the usual terrible questions and the amusing sound rounds from guess the actor to XP shutting down to Characters screaming in games.
For me the bad news was THE CAKE WAS A LIE. This was due to a mix up from the ordering and something went wrong. However not all was lost as we ran to aldi the next day and just stole (leagaly purchased) some mini cupcakes the next day!
After the quiz people rushed back to download the mystery games thus reveled, The Hidden Source and Soldat. I believe there was a lot of midnight and early practice for these games. I know a few of the admins were awake till 3am so I hope the practice helped everyone!
Saturday started slowly as all the zombies and attendees woke up getting ready and hyped for the first day of Left for Dead Tournaments. In Skynet LAN tradition this started 2hours late but gave all the teams time to show up and have food or coffee/tea.
The matches were taken into groups of teams with the team names of: U Wot Mate, TEAMNAME, The Deplorables, Team Laser Explosion, Pinkeye, Plut Bugs, Scratch T1, Yolo Swaggins, Left 4 Skins, The briffsters, Merfa Mafia and lastly Shit licking Thunder Whippets.
The First rounds of The Hidden kicked off around 15:30, with three games kicking off at once. It became time to see who got the most out of their midnight frantic training sessions and who would be the first victim from the invisible man!
At the cutoff for Pizza we got our first glimpse of where the scores were at. For the first round of Left 4 Dead we had U WOT MATE winning their mate against The Deplorables. Team Laser Explosion wining against TEAMNAME. Pinkeye won to Scratch T1. Plut Bugs won against YOLO Swaggins, Left 4 Skin got a historic 700 points (due to bonus round not haxing) against Merfa Mafia and finaly The Briffsters beat Shit Likking Thunder Whipp.
The Hidden round one winners were on Server one in First- Schepke, second – Pokeylope and Third – Faf
Server two server: First – Damage, Second – KBC and Third – Chufu.
Server three: First – Phace, Second – Yarikh and Third – Meklon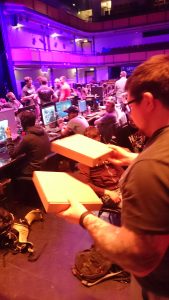 Now all the Pizza Orders in and some people seem to be napping at their computers getting ready for the QUAKE III tonight!!!!!! It has giving the staff 5mins off their feet (and pope his voice a break from loving and abusing through the mic) Our Sponsors from X-GAMER Matt and Daly a chance to walk around and ask for feedback on products and how they were enjoying their time. We have however converted Dale's son it should be said and hope we will see him at future events!!
After the hunger was quashed people started to get their energy juices running with some of the fantastic choices from the SkyNet SnackBar. This meant it had to be time for QUAKE III!!! After playing some fast practice rounds the tournament started to see who would be victorious at this years events in what can probably  be called our most popular event of the weekend (oldies are golden) After much competing and bloodlust from everyone our winners were, in First Place: Gym! Second Place SlasherBeast and in Third place Yarikh! It was a good night of matches that got everyone pumping!.
After this eventful day it was a time to destress and relax and enjoy yourself, or catch on some much needed sleep ready for the Finals on Sunday.
So Sunday arrived and again in all SkyNet tradition was a little late, but not as bad as normal (that could be as the clocks went back!) So Around 1030 we started the Semi Finals of Left 4 Dead and the first team to massacre was Team Scratch #1 wining against Left 4 Skin. The second team was Team Laser Explosion against Shit Likking Thunder Whipp. The Victors of this one was Team Laser Explosion.
So our Finalist were Team Scratch One against the Team Laser Explosion!! So The Final was as bloody Thirsty as we expected with a lot of over coms shouting to grab the can or throw up on the enemy! The winners with only around 100 point different was Team Scratch one!!!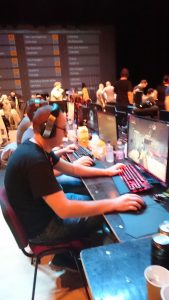 The Next final we had was The hidden played with  Schepke, MrPokeylope, Faf, Damage, KBC, Chef, Phace, Yarkie and Meklon!. After much sneaking around in the sewers after the invisible knife wielding maniac the First place winner was Damage with second place as Faf.
After a short break we return to Soldat, our second mystery game with the teams of DipDuck and (originally chosen ) Team Name. The game commenced with a lot of jumping and tactics that seems to involve rushing the other team and finished with DipDuck teams coming out on top!
This brings us to almost 14:00 and time for Prizes and Raffels! So after some rush admin jobs we got the winners on stage to hand out some cool goodies from OverClocks, from mouse mats to mice! The Left 4 Dead winning team got to run off with some shinny new Headsets as well to compliant their machines.
So this was our Winter SkyNet #4 Lan! We hope everyone enjoyed themselves as much as the admins will tell you they did. We would also like to say a massive thank you to our Sponsors from OverClockers, Discord, Calibre and X-Gamer, and off course to our venue for all the work they do and them allowing us strange people to arrive on mass!
Hope to see you all next LAN – SNW Sheppy